---
📊 | My experience with business analytics
---
I studied business analytics with Springboard, a top online school (3rd in the Switch Up ranking for Data Science bootcamps) that teaches data analysis via business cases and 1:1 mentorship sessions with analysts at the world's best companies. I was paired with Anshuk, former McKinsey consultant who currently works on the LinkedIn Talent Solutions team where he launches new products and markets.

---
Here are a few projects I've worked on:
Revenue forecast model built in Excel for a fast food restaurant chain
---
Root cause analysis using Excel to investigate a spike in return rates for an e-commerce store
---
Customer segmentation using Tableau to identify the most profitable segments for a chemical products company
---
Traffic and conversion rate analysis using Excel to improve the sales funnel of an e-commerce site
---
CLV estimate using cohort analysis for a telecommunication company
---
---
---
⚗️ | My experience with CRO
(Conversion Rate Optimisation)
---
As a Marketing Consultant at Slices Consulting, I was in charge of leading the research work. My key goal was to understand the online audience of our clients and extract insights to improve conversions, increase revenue and lower acquisition costs.
---

---
My key responsibilities and accomplishments have been:
Increased SQLs by 160% for a SaaS company.Increased sales by 110% for an E-commerce site. Spoke at 3XE Ireland about how online companies can build trust to increase sales.Run quantitative and qualitative research on client's customers to understand why they do or don't convert:- Consumer Behaviour Research (Usability Testing, Surveys/Polls, Heatmaps, Interviews, Card Sorting, Conjoint Analysis and other methods)
- Web Analytics (Google Analytics)
- Competitive Intelligence Analysis
- Heuristic Evaluations (UX, Persuasion, Digital Behaviour)
Worked with my team to:- Plan and prioritise effective solutions addressing the issues identified from research.
- Deliver the solutions as A/B tests to clients.
- Analyse and evaluate A/B tests, report on results and recommend next steps to clients.
Worked across multiple client projects simultaneously and manage workload within allocated timeframe.
---
Here are a few projects I've worked on
where we run A/B tests and had results:
💇🏼 | Salon CRM SaaS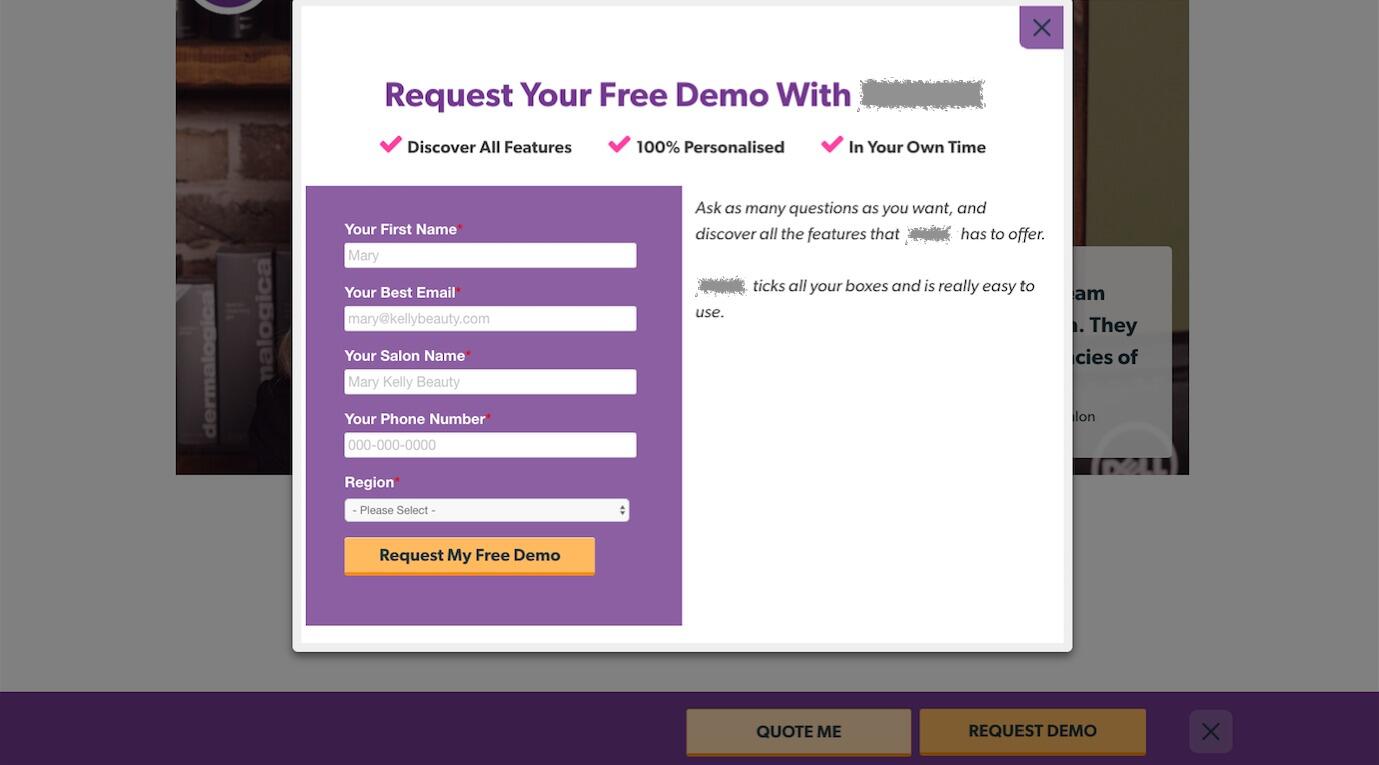 Situation: Low conversion rate from visitors to Demo Requests and Quote Requests.

Insights: - Many salon owners were not very tech-savvy and learning a new technology was intimidating to them.
- They wanted assurance that the software was not only easy to use, but actually useful for their day-to-day operations and weren't receiving enough information to feel convinced of this.

Results: - Increased SQLs by 160%
- Improved funnel and site architecture with new pages: a product tour, a full feature checklist, and an interactive demo for those wanting to see what the actual interface and usability of the tool is like.
- Introduced a community forum, where customers can interact with one another. As the user moves from page to page, they are encouraged to perform the next step in the funnel: from learning and discovery to validation, to eventually requesting a demo.
- Updated design to make it more appealing to highly visual salon owner persona types.
---
💍 | Jewellery Ecommerce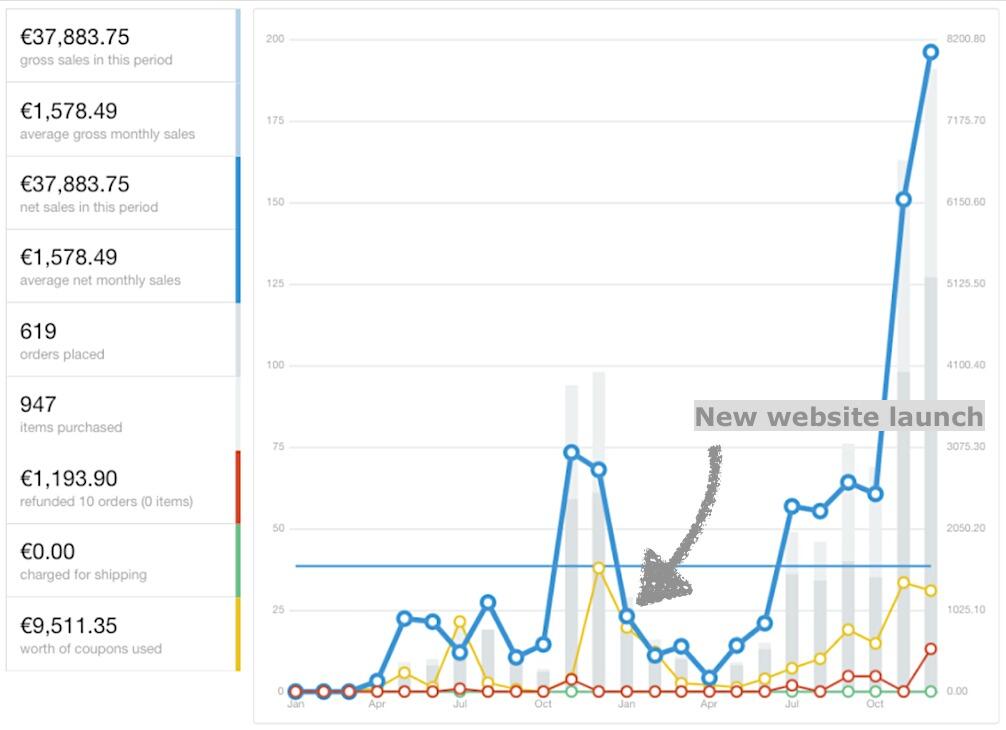 Situation: Low conversion for an eCommerce site despite qualified traffic.

Insights: - Visitors had a tough time trusting the brand as the products seemed "too good to be true",
- Prospects didn't know the brand and wanted to be reassured,
- Customers liked the fact that they supported a charity (for the few that saw it),
- 25% of visitors were coming to the site to buy a gift for somebody else.

Results: - Increased sales by 110%
- Added product pictures in situation to enable visitors to visualise how the products actually look like.
- Created a gift section with information around packaging, secret delivery, return policy, testimonials, etc…
- Reinforced trust by adding TrustPilot testimonials or celebrity endorsements.
---
where we provided strategic advice and wireframes but didn't run A/B tests:
🚚 | Skip Hire Website
Situation: Low conversion rate from visitors to bookings.

Insights: - Most people never heard of the brand before and wanted to have more guarantees about the reliability of the company that owns the website. From the website it's possible to find and book waste removal services. Once the booking is made, the request is sent to the skip company the customer has chosen and they provide the service.
- It was unclear why users should trust the skip companies listed on the website.
- It was unclear who customers should contact if something went wrong: the website where they made the booking or the skip company that provides the service?

Results: - New conversion funnel: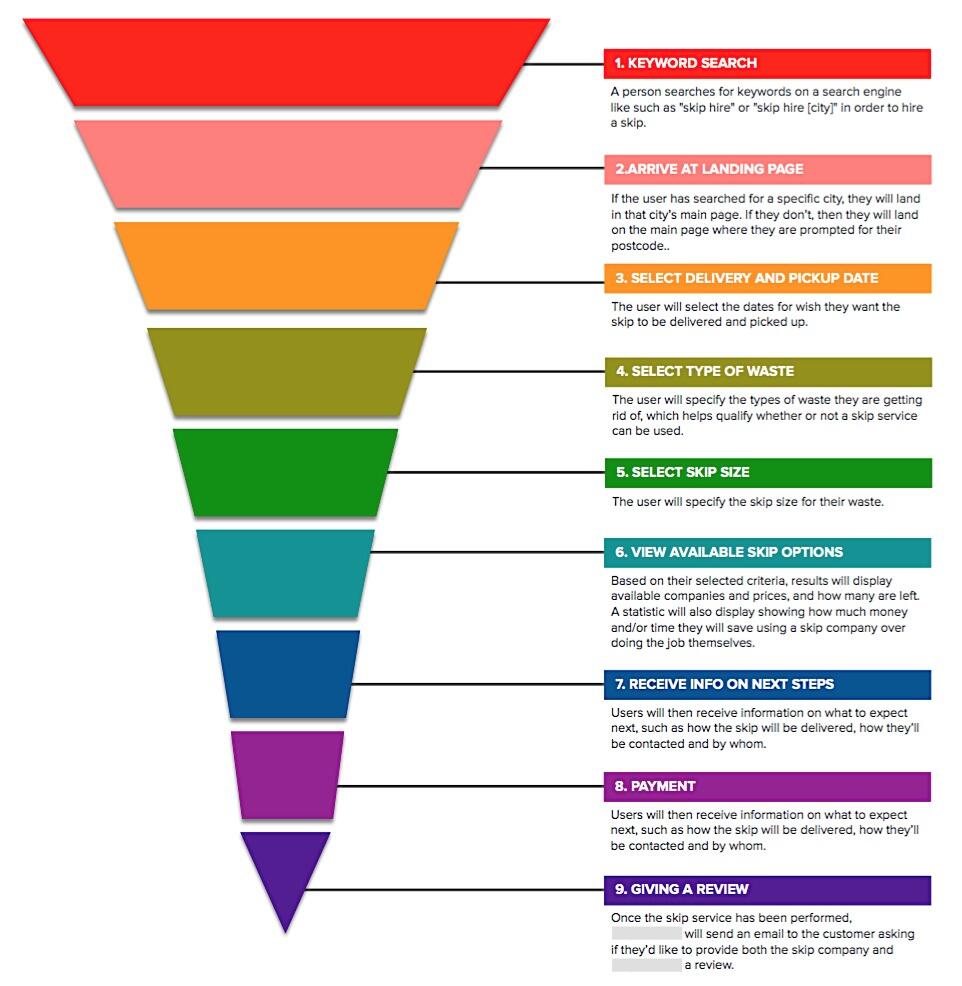 ---
👁 | Laser Eye Surgery Clinic
Situation: Low conversion rate from visitors to consultations booked on Adwords campaigns.

Insights: - People are afraid of getting laser eye surgery because they know there is a risk of ruining their vision,
- Getting laser eye surgery could be expensive and the price can be an issue for some potential patients.
- People want to make sure that they're getting their surgery at a top level clinic. They want to make sure they're being treated by top-quality surgeons and the clinic has a good reputation.

Results: - Introduced a simple form page that appears before the landing page and funnels users to the appropriate page, depending on their self-described symptoms.
- Suggested introducing payment plans.
- Added more testimonials, media mentions, expert reviews and company achievements to increase trust.
---
where we only provided strategic advice:
📨 | Email Outreach SaaS
Situation: Low conversion rate from visitors to trials.

Insights: - Visitors who match the MPC (most profitable customer) profile don't connect with the brand which has an impact on trust and sales.
- Positioning and funnel aren't tailored to MPCs which has a big impact on conversions and sales.
- People are not tracked as individuals throughout the funnel (from the first visit to using the tool) which prevents from delivering a personalised experience for MPCs.

Results:- Recommended to update branding and create a cohesive brand for all digital assets (logo, website, emails, images, etc...) that MPCs feel connected with.
- Recommended to narrow down focus (positioning and funnel) to cater for MPCs' needs and create a more effective nurturing process.
- Recommended to set up a system to measure who are users (visitors, leads, customers) and what they are doing throughout the funnel so their experience can be personalised.
---